Please follow the following guidelines:
stick to a 36″ x 42″ page setup (36 inches wide, 42 inches high)
format the file PDF (we will not print Powerpoint files…just save your Powerpoint file as PDF)
avoid large areas of light text on dark backgrounds (avoid dark or black backgrounds altogether)
proofread your PDF file VERY carefully before sending it — due to demand, it's extremely unlikely we'll be able to reprint a poster with with typos or other mistakes
email us at tford1@umbc.edu if you need any assistance with the poster, including specimen photography or shots of your experimental results (plates, autorads, etc.)
please include your name, first, last or both, in the FILE NAME!   We get a dozen files named CNMSsymposium.pdf and/or Poster.pdf and that makes it difficult to discern one student's from another.
we'll email you back an acknowledgement that we've received the file.  If you don't get an email back in the next 24 hrs, please stop by (BS 102) or email us an inquiry
feel free to stop by closer to the time of the event to grab you posters….we don't have the resources to deliver the poster to the event site and probably won't have time to email you that it's done…it's a very busy time for us!
Research Graphics provides high-quality posters for the purpose of research presentations.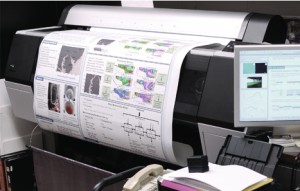 Media
We can print to either paper or cloth.  Our paper is a 260 gr/m2, semi-gloss surface that our clients love for it's structural integrity, high opacity and easily viewed non-reflective quality.  Our cloth is a soft, satin finish with high saturation and extremely durable ink-retention qualities.  We have yet to find a solvent that will smear it, once dried.  The cloth posters can be folded and carried to meetings in a briefcase, instead of a bulky tube, then ironed at your hotel the morning before a presentation.
semi-gloss paper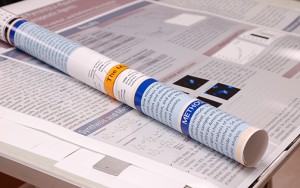 satin finish cloth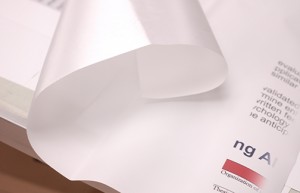 Size
Standard poster sizes are 36 x 42 inches,  36 x 48 inches,  42 x 56 inches, but we can print any custom size up to 44″ x 84″.
We print on a 44″ roll and bill according to how many inches comes off the roll at a rate of $0.75 per inch…so a 42 x 56″ poster comes to $42.00  (56 x 0.75 = 42)  whereas a 36 x 42″ poster comes to $27.00 (36 x 0.75 = 27).
You can save money by making sure both dimensions are 44 inches or less.
File
The file should be a PDF, not a PPT.
Please use your name (first or last or both) in the file name. Files named "Poster.pdf" can very easily get confused and not printed when we have 5 others with the same name.
Payment
Include a chartstring with the file some that we know to which account this job will be billed.
Students can have a program director or faculty member get in touch to verify they are paying for the poster.
Tips
Avoid using large areas of very dark colors. For example, a poster mostly comprised of light text on a dark background we have to reject, as these often result in clogged printheads and down-time for the printer.
Check for errors in rendering or typos.
Please allow for at least a couple of days lead time. Turn-around times during peak periods (the month of April, for example) may be more than 3 days.